1987 PRS CUSTOM 24,Royal Blue & Teal Back, 1°SERIES PRE FACTORY Abalone Moon Inlay in Brazilian Rosewood Fingerboard,EX+
Great and rare early one guitars with the famous excellent craftsmanship and premium woods those early PRS guitars are known for.
A Custom Color finish with the famous Moon Inlay - brazilian rosewood fingerboard with 24 medium jumbo frets (brand new) and radius 1 - rotary switch - original HFS Treble and Vintage Bass humbuckers for vintage rock and blues vibes, brown sound!- PRS hard case which is in great shape.
The mahogany body and neck bring low end mid resonance to the table, the thick maple top adds in the high end mids for a beautifully balanced natural tone. The pickup selector allows to get a plethora of tonal options, everything from full bridge hum to full neck hum to sweet parallel beautiful cleans; with an overdrive, the pickups fatten up perfectly. The bridge pickup has solid body and excellent cut, the neck pickup is a mind blower- thick syrupy sustain with excellent note articulation.
The neck here has a thin, fast feel- .80" deep at the 5th fret with an elliptical C profile; the 10" radius and you have a fantastic player- comfortable chording and effortless bends. With its high mass design, the Prs tremolo transfers more string energy into the body than most others. The trem action is smooth, and, the locking tuners & straight string pull allow for exceptional tuning stability. Incredible "sexy" flame top, natural 'binding', bird abalone inlays, and chrome hardware.
code VA785
Serial Number Prefix Digit -Year Codes
The first digit is the last number of the production year, followed by the sequential number of guitars produced to that date. For example - 6 2557 would be a guitar manufactured in 1986 and was the 2,557th set-in neck guitar made while 6 29584 would be a guitar manufactured in 1996 and was the 29,584th set-in neck guitar made.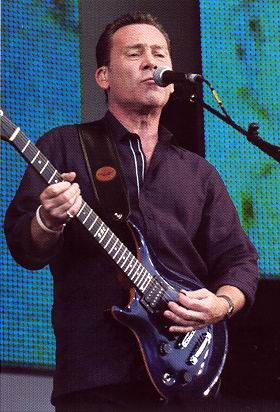 UB40