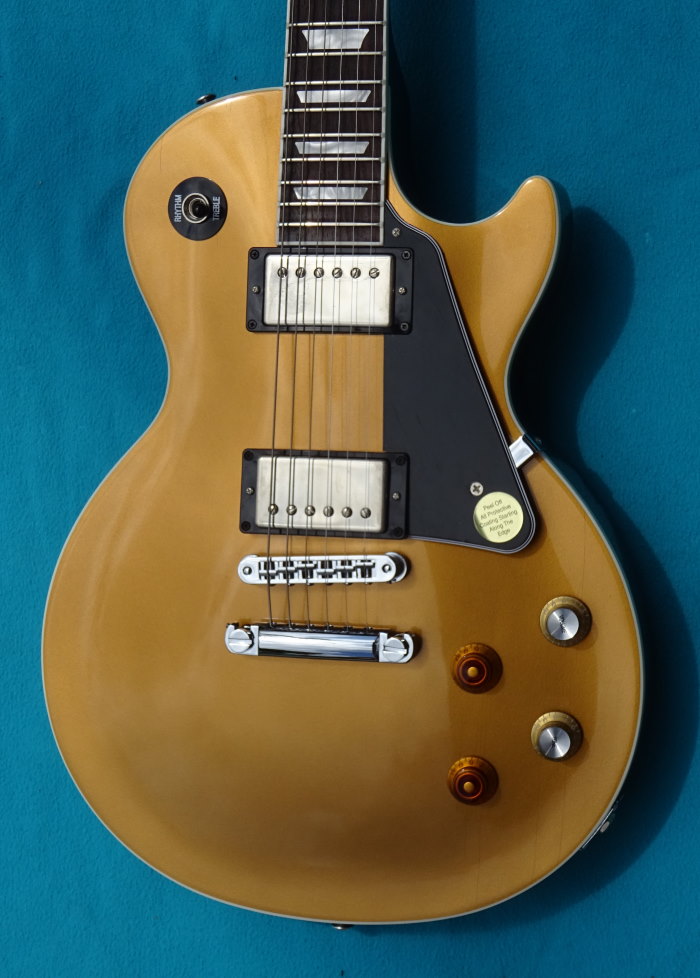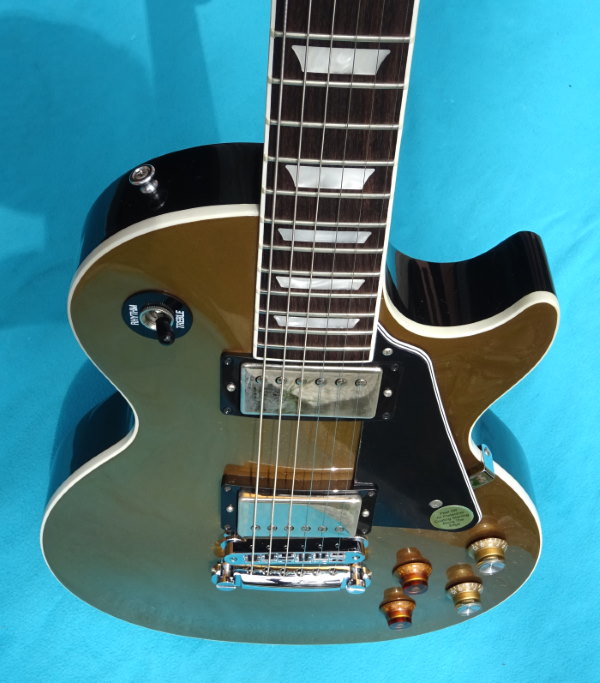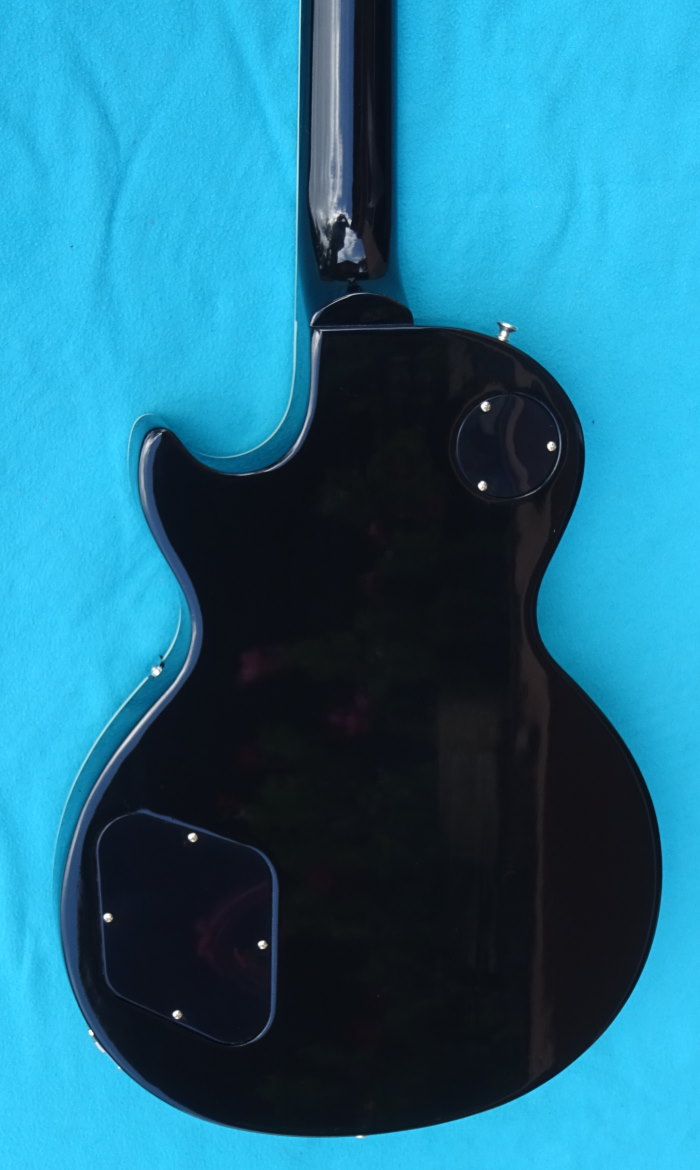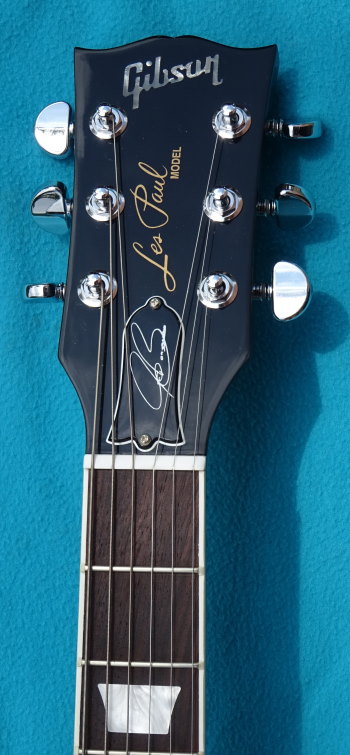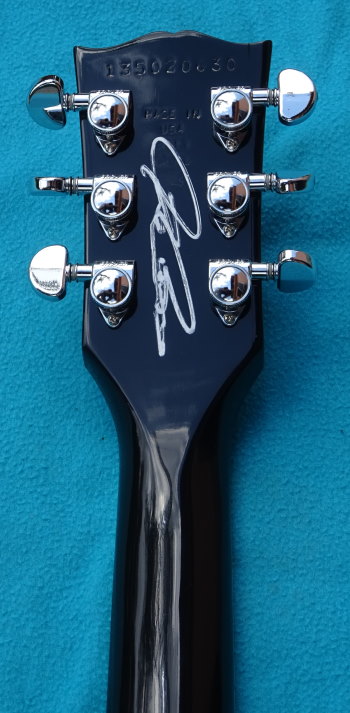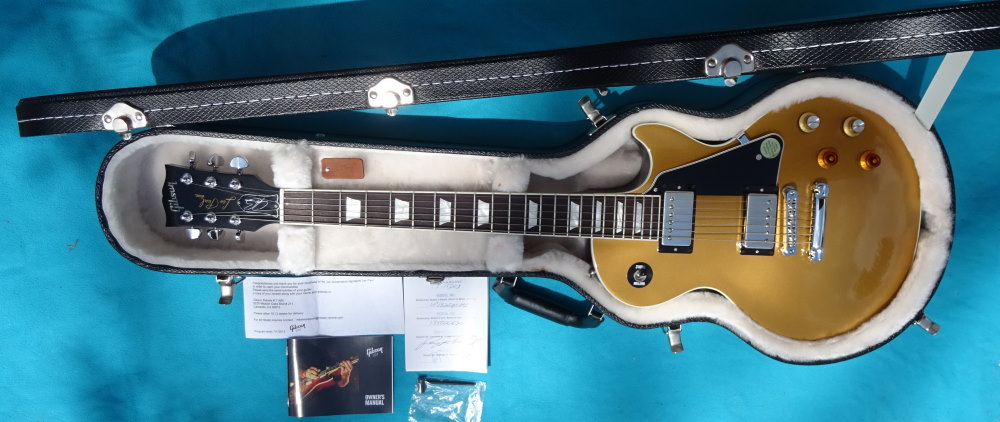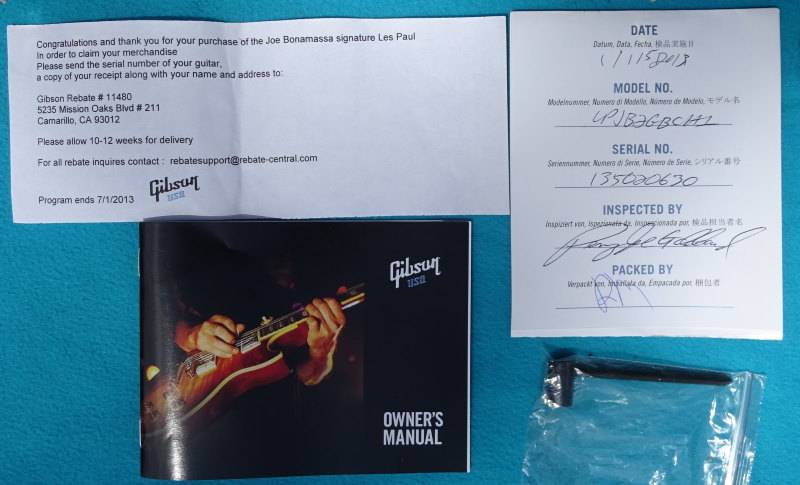 2013 N.O.S. LES PAUL STANDARD GOLD TOP JOE BONAMASSA Signature UNPLAYED OHC code GI29
https://www.youtube.com/watch?v=-tHx97gmE90
The Bonamassa Les Paul features a carved maple top and a mahogany asymmetrical 1960-style neck that aims to marry "comfort and speed" (price list $5999)
Limited Edition
An absolutely gorgeous Gibson Joe Bonamassa Les Paul Standard Limited Edition dressed in a beautiful rich, deep goldtop finish. Very rare, only 400 made, a true collector's item! This is the Gibson Joe Bonamassa Signature Les Paul Standard
Solid Mahogany body with carved top Maple
Rosewood fingerboard with acrylic trapezoid inlays
Mahogany neck 'Quarter-Sawn with 1960s Asymmetrical profile, very comfortable
Pickups: Seymour Duncan Joe Bonamassa Alnico II in the neck and Seymour Duncan Joe Bonamassa Alnico III in the bridge
Black five-ply pickguard signed by Joe
Nut Width: 1.695 Weight: 9lbs Frets: 22 Radius: 12" Nut/E.O.B: 1.695"/2.260"
No contemporary guitarist has thrust scorching classic blues-rock tone into the 21st century like Joe Bonamassa. Through a fleet of uncompromising solo recordings, guest appearances, and world tours he has proved himself one of the most dynamic guitarists working today, and his iconic Les Paul Goldtop has accompanied him throughout the whirlwind journey. "For me to be myself," says Bonamassa, "I have to play a Les Paul. I plug it in and it sounds like me—exactly the way I´m supposed to sound. Anything else just doesn´t make sense." Now Gibson USA gives fans of Joe´s style and tone the opportunity to acquire an authentic dose for themselves, in the form of the new Joe Bonamassa Les Paul. The package, limited to 400 guitars, includes a meticulously crafted Les Paul Standard designed in the image of Joe´s own main squeeze, new pickups made to Joe´s specifications by Joe and Seymour Duncan
The mahogany-and-maple combination has always been at the cornerstone of the classic Les Paul tone, and the Joe Bonamassa Les Paul from Gibson USA stays true to that tradition. The carved maple top contributes clarity and sustain to the overall brew, while a mahogany body—treated to Gibson´s acclaimed "modern weight relief" to lighten the load and enhance resonance—provides all the depth and sweetness for which this legendary tonewood is known. Traditional building techniques continue with the glued-in solid mahogany neck with 17-degree back-angled headstock for optimum pressure in the PLEK-cut slots of the Corian™ nut. The neck is carved to a sumptuous new asymmetrical 1960 profile for the optimum marriage of comfort and speed, and topped with a one-piece, Grade-A rosewood fingerboard with cream binding and traditional trapezoid inlays. The Joe Bonamassa Les Paul totally looks the part, too, in its classic Goldop finish with dark ebony sides, back, and neck, all in high-gloss nitrocellulose lacquer, of course. The package is completed by Joe´s choice of mismatched gold and amber knobs for the bridge and neck pickup controls, a black truss-rod cover hot stamped with Joe´s signature, black pickup rings, and a black five-ply pickguard.
The tone of any great guitar lives or dies by its pickups, and Joe and Seymour Duncan have teamed up to create these new pickups to Joe´s specifications. A TonePros™ locking Tune-o-matic bridge and tailpiece and a set of Grover™ locking tuners ensure solid sustain and faultless intonation and tuning.
Joe Bonamassa (Joseph Leonard) is an American blues rock guitarist, singer and songwriter born in New Hartford, New York. When he was only 12 years old, Bonamassa opened for B.B. King. In the last 13 years Bonamassa has put out 15 solo albums through his independent record label J&R Adventures, of which 11 have reached number 1 on the Billboard Blues charts. Bonamassa has played alongside such artists as Stephen Stills, Eric Clapton, Blondie Chaplin, Foreigner, Buddy Guy, Steve Winwood, Warren Haynes, and Derek Trucks among others. His career highlights include performances at the Royal Albert Hall and a Grammy Award nomination in 2013. In addition to his music career, Joe Bonamassa runs a nonprofit organization called the Keeping the Blues Alive Foundation. The mission is to further music education by funding scholarships and providing music education resources to schools in need. Check out www.jbonamassa.com