Piano Rhodes 88 MKI + Fender Piano Amp UR120-S 100W
Coplete with Piano Legs and Sustain Pedal - SUPER Excellent Conditions !!!
Not long after the first Stage pianos became available, CBS produced an option package for owners with Suitcase envy: the Super Satellite system. Released in 1972, this was a pair of 2 x 12" speaker cabinets, each with a 100W amplifier. The system included a namerail upgrade for the Stage model, replacing the standard Volume & Bass Boost knobs with a control panel identical to the Suitcase. This gave the piano the stereo Vibrato effect and the Accessory 1 & 2 loop, as well as treble & bass EQ. The master cabinet was also for sale by itself, providing the same features while operating in mono at half the power.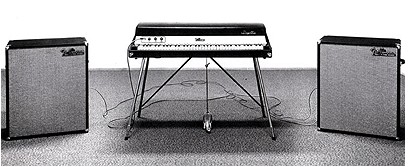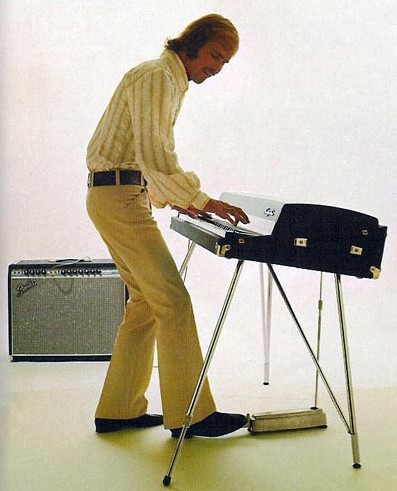 http://audio.accordo.it/articles/2011/11/58529/rhodes-storia-caratteristiche-modelli-aneddoti-prima-parte.html
http://audio.accordo.it/articles/2011/11/58793/rhodes-storia-caratteristiche-modelli-aneddoti-seconda-parte.html
http://audio.accordo.it/articles/2011/11/58794/rhodes-storia-caratteristiche-modelli-aneddoti-terza-parte.html
http://audio.accordo.it/articles/2011/11/58998/rhodes-storia-caratteristiche-modelli-aneddoti-quarta-e-ultima-parte.html
http://www.youtube.com/watch?v=wzxDIV1Qi2M
http://www.youtube.com/watch?v=0IibBTcPc_g
http://www.youtube.com/watch?v=H-nH2bI7ojo