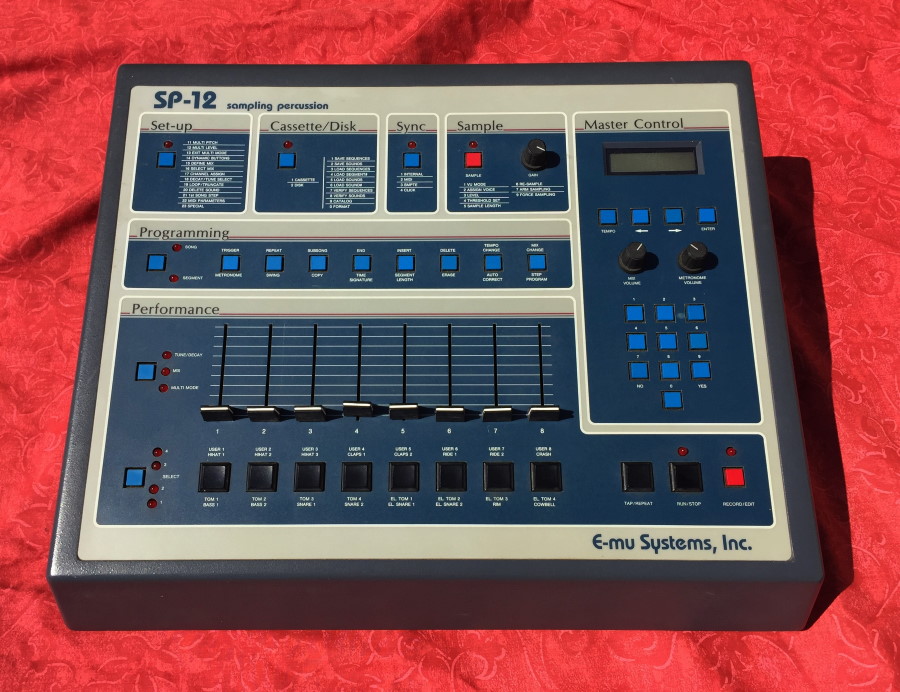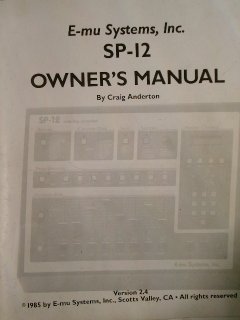 Emu System SP12 VINTAGE DRUM "EMU SP12 +COMMODORE DISKDRIVE"
Polyphony - 8 voice
Sampler - 12-bit sampling, 48kb memory for 1.2 seconds (expandable to TURBO - 192kb memory for 5 seconds) of sample time
Drums - 24 samples including kick, snares, toms, hi-hats, crash, ride, rim, clap, cowbell
Patterns - 100
Songs - 100
Keyboard - 8 touch pads
Memory - 8 user
Control - MIDI, SMPTE
Date Produced - 1985 - 1987

SP-12 With the Emulator II taking the market by storm in 1984, E-mu Systems shoe horned the new Emulator II technology into a drum machine called the SP-12. They launched it in 1985 and created one of the first sampling drum machines, matching the new Linn 9000 and eclipsing the Oberheim DX/DMX, a full two years before the Akai MPC60.
Info: http://www.vintagesynth.com/index2.html
The E-mu SP-12 is the classic drum machine & sampler combo that paved the way for such greats as the E-mu SP-1200 and AKAI MPC series of sampling drum machines. Redesigned from E-mu's original Drumulator drum machine, the SP-12 is a classic drum machine with built in sampling capability. There is a set of preset drum sounds including kick, snare, hihats, toms, cymbals, handclap and rimshot. These sounds can be mixed and edited using the sliders. Then you can add your own beats and drum sounds using the built-in 12-bit sampler. Sampling time is limited to only a few seconds and the quality is very lo-fi (a sound loved by lo-fi and trip hop). Store your patterns and link them into songs, there's room for 100 of each! There are mono and individual outputs (no stereo). It's been used by Madlib, Large Professor, and DJ Premiere.

The SP-12 was quickly superceded by the SP-1200 in 1987 which was continuously reissued through 1997. The SP-1200 is undoubtedly the more popular of the two since it has added features and emphasized sampling by eliminating the preset drum sounds. However, for the classic synth collector the SP-12 still makes a great gift!