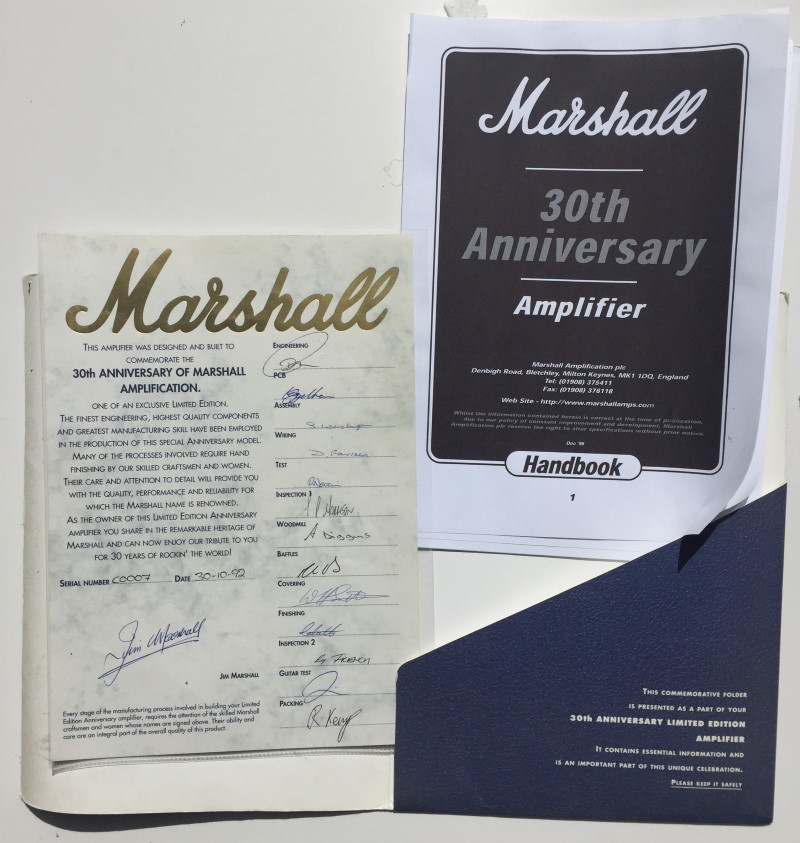 Marshall 6101 30th Anniversary Combo Limit Editions Blu Tolex and Golden Vrass chassis and logo. Excellent conditions ! Only 500 Made Perfect with Pedal 3 switch and Orig. Instruction and Marshall Document with Original Signature ONE THE FIRST MADE ! RARE
https://www.youtube.com/watch?v=3NHQXSsXr6g
https://www.youtube.com/watch?v=6fA9RDK0m8w
https://www.youtube.com/watch?v=OxxVThDabAs
https://www.youtube.com/watch?v=Md_66breS0Q
All in all you get a slice of Marshall history in a superbly versatile little amp that packs a huge pwerful punch yet doesn't take up one wall of your room.
All the different channel 2 crunch modes are what does it for me, plus you get very close to a fender clean bright tone, and access to the massive lean gain on channel 3. In all these modes there is a transparency to the tone that you only get from really good amps; despite being driven really hard the tone still carries the signature of your own guitar.
A very special amp out of Jim Marshall's stable back in 1992. Powered by 4 x EL34 valves and 7 valve pre-amp stage (12AX7)
In immaculate condition, limited edition blue tolex.
Features 3 channels, footswitchable via midi:
Channel 1: Clean bright gain, something of a first for marshall to deliver such a clear channel
Channel 2: Crunch, with 2 toggle switches to run through all the classic Marshall sounds over 30 years, this channel alone has 3 separate gain levels to alter the tone and dynamics of the overdrive. This will give you the characteristic sounds of a JTM45 thru '59SLP to JCM800 to JCM900 amps.
Channel 3: Lead, really high gain with gain boost switch.
Each channel has its own set of tone controls, bass, mid and treble.
Input features High & low compensation to best match the pickups of the guitar used.
Channel 1 features a bright and a mid-shift switch
Channel 2 has the two overdrive mode buttons A-B and B-C
Channel 3 has gain boost and contour switches.
Master volume, presence and effeects loop level complete the front panel.

Rear panel:
Pentode - triode switch plus High - Low power setting, these enable the amp to reduce its power rating from 100W down to 50 or 25W accordingly. Be warned - this little amp is a very loud beasty.
8ohm-4ohm switch for connecting extension cab
Damping select - High/Auto/Low
DI out with its own trim level
Effects send and return sockets with separate trims for channel 1 and 2 send level, also series/parallel switch for FX loop
Midi in and footswitch in completes the rear panel.

Really a huge amount of features put into this little package, this is a superb amp that I'm not parting with lightly.
Included is the 3-channel Marshall channel switch footswitch.