70's HARMONY STELLA H6128 Made in USA Rare Model Parlor Guitar AC114
HARMONY STELLA H6128 Made in USA Acoustic Parlor Guitar Nice sound, blues like. A really clean and extremely well playing Harmony Stella Model H6128.These are very well made and strong. Laminated woods so they are indestructible.

(1972-1975) - Acoustic flatop - Natural
Seventies version of the H927 - Two different versions : late models use laminated woods, have a faux spruce grained top, an all plastic adjustable bridge, and dots instead of "H" painted markers on the fretboard. The logo name on the head changed from "Stella" to "Harmony" on later versions. Late models wears the Stella name only on the label inside. H6130 is the same model in sunburst finish. Given that this one has the Harmony on the Headstock and the faux spruce top, we are calling it a 1975 or one of the last years. The plastic bridge and pickguard are still with it. Even the original nut and tuners are still present. I don't think this guitar had very much play in its life. Check those frets. Almost new!!
The guitar sounds really nice. Nice punchy tone with plenty of volume. Not muddy sounding at all. A good chording guitar for singing along with it. However, if you want to play some hot licks on it, you will be shocked at the great action on this guitar. Incredible!AC114 Vintage Stella by Harmony Acoustic guitar was made in the USA in the 1960'S. The Stella brand was favored by players like Leadbelly, Doc Watson and was used by Kurt Cobain on the recording for Polly. Stella was aquired by Harmony in 1939. Stella was an American guitar brand owned by the Oscar Schmidt Company. Itwas founded around 1899. Stella guitars were played by notable artists, including Robert Johnson, Lead Belly, Charlie Patton, and Doc Watson who learned to play on one. Kurt Cobain of Nirvana played an acoustic Stella on the recording of the song Polly, from the Nevermind album, and Mason Williams with Classical Gas. Stella was acquired by the Harmony Company in 1939. The brand was dissolved in 1974, and was later reintroduced by M.B.T. International, which is the corporate parent of the Harmony Company.
https://www.youtube.com/watch?v=cFlFCHJyAJ4
https://www.youtube.com/watch?v=y4Cw_msHypg
https://www.youtube.com/watch?v=zhuEsU-QVac
https://www.youtube.com/watch?v=nHIzupN8bfc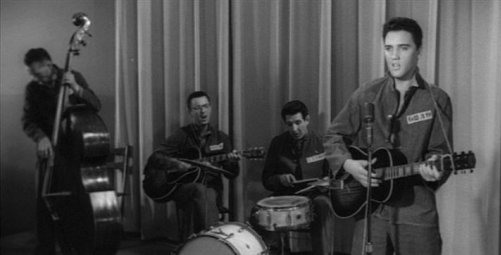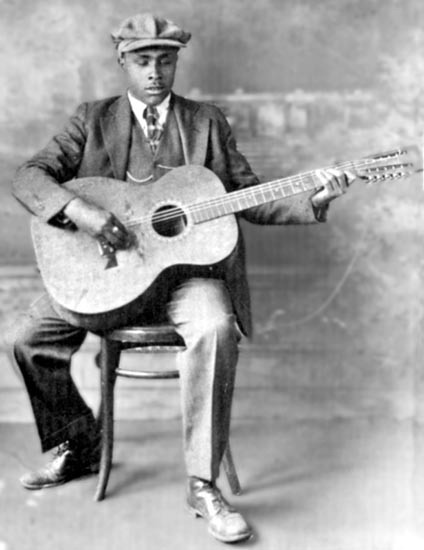 McTell, circa 1928 with jumbo Stella 12-string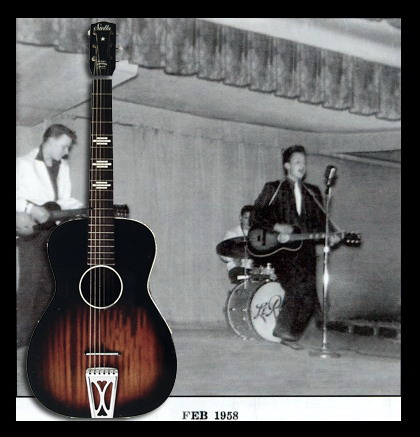 Stella harmony Dylan performig with The Golden Chords Bob's second band