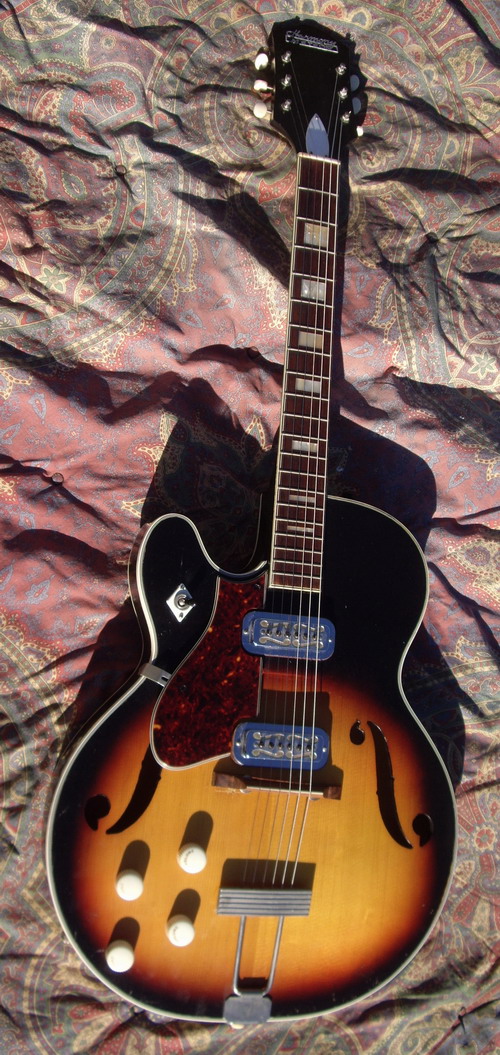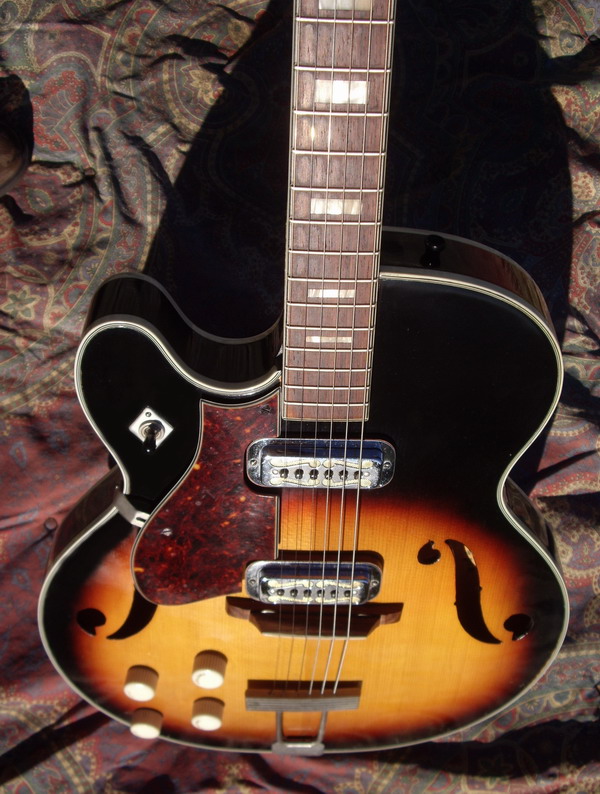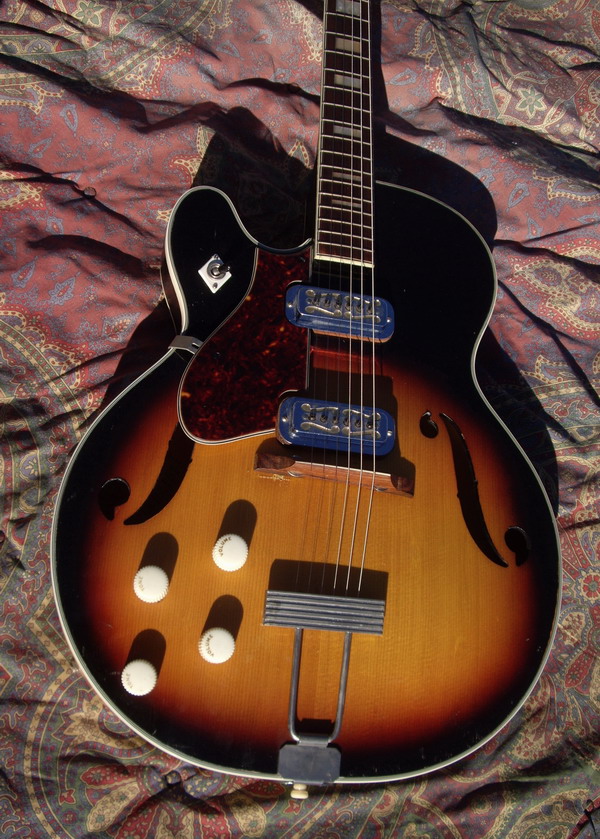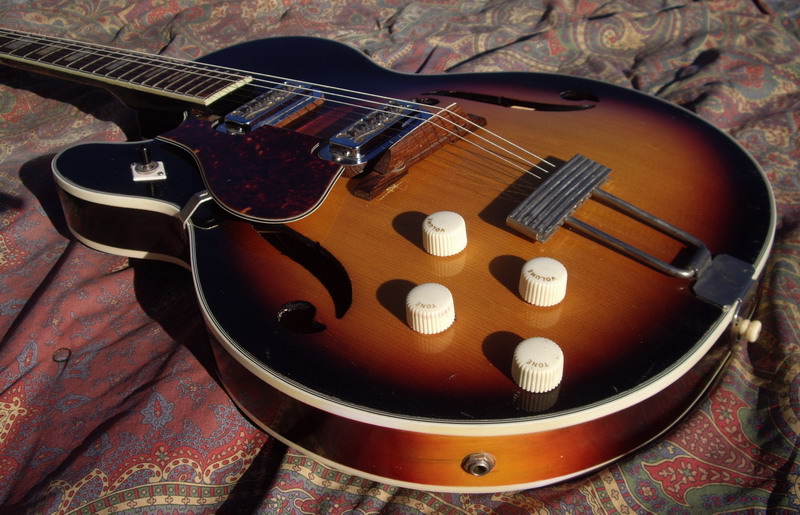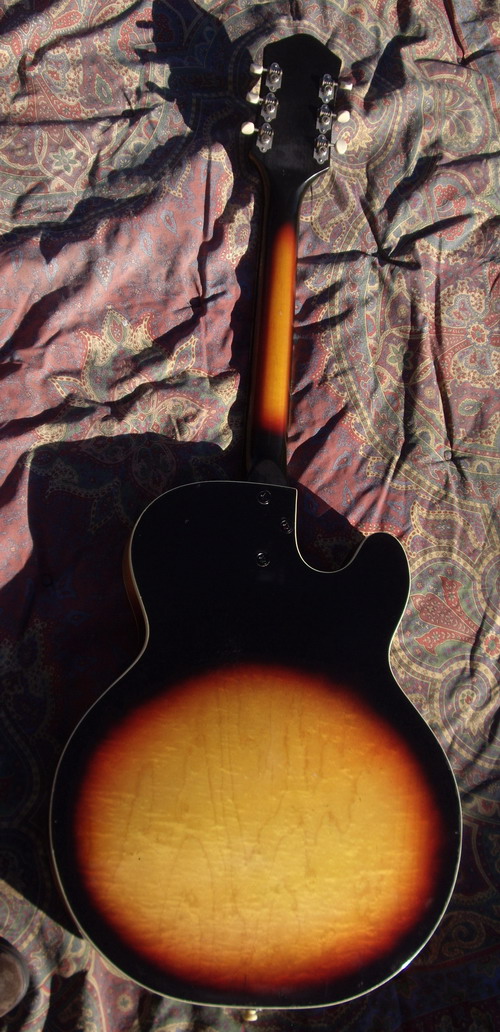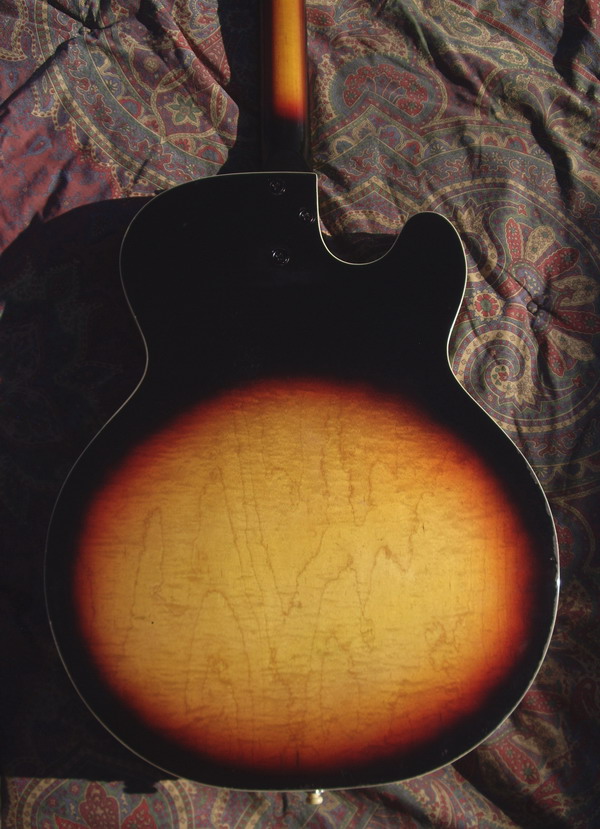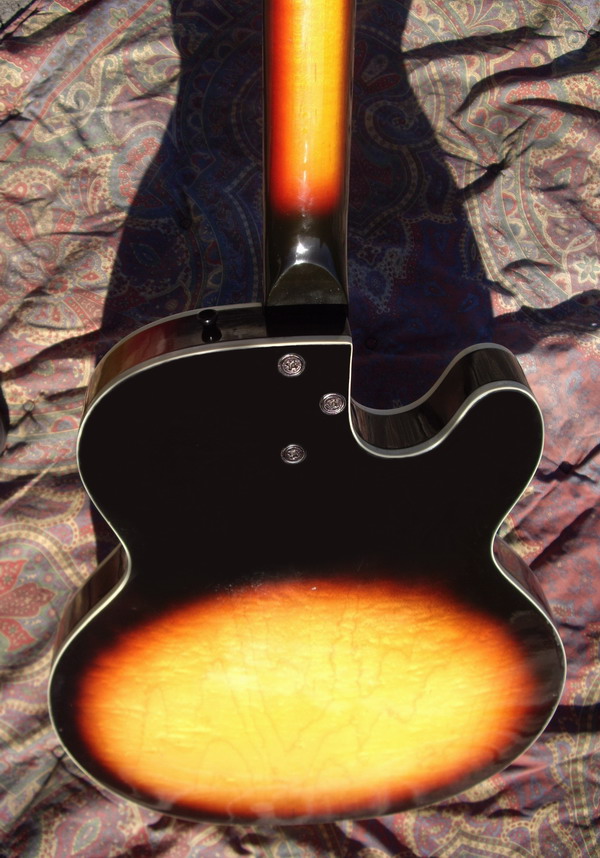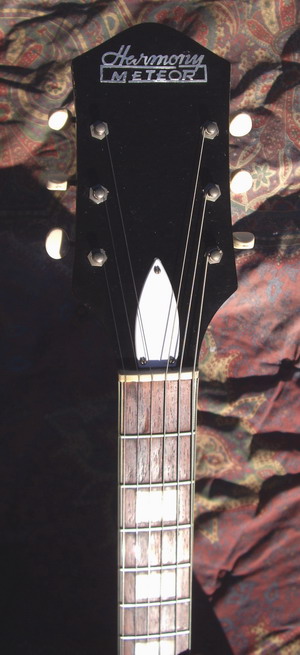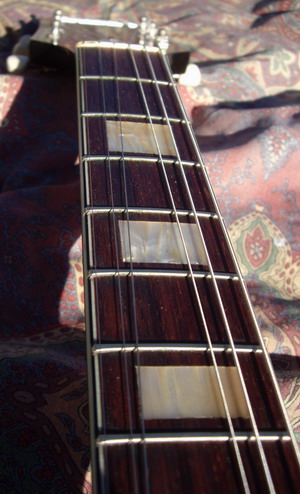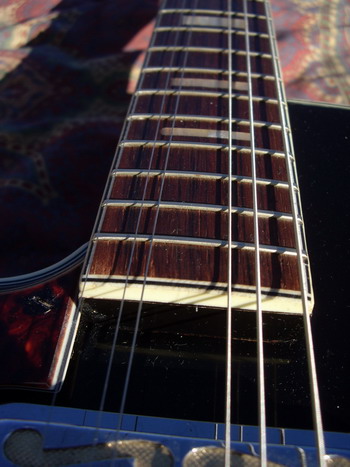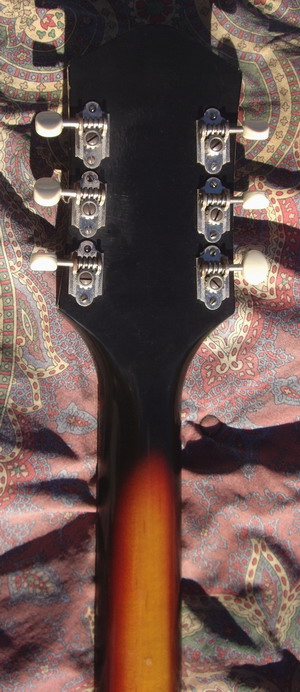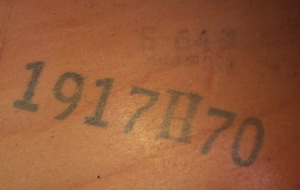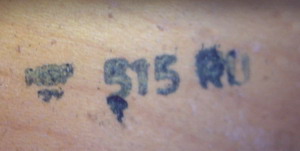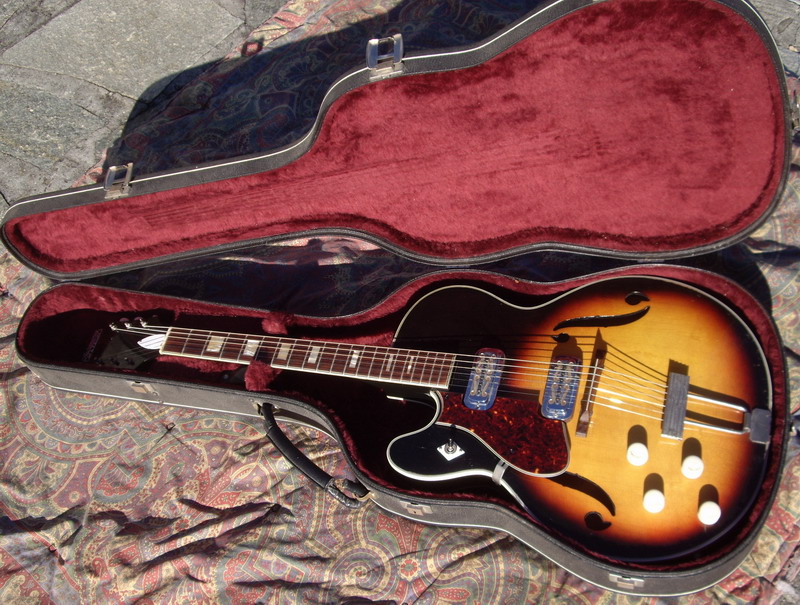 '64 HARMONY METEOR H70 Left Handed, Sunburst, Rare, Gold Foil De Armond pickups, EX+ code LH156
This guitar is in excellent condition and all original complete with the rare and oft-discarded tortoise pickguard. This guitar has a hollow body, maple back and sides, a laminated spruce top and a bolt-on maple neck, 24 1/4" scale, and a non-fixed wooden bridge. This guitar weighs in very light at 6 lbs 5 oz. It extremely light and extremely resonante! Everything remains structurally sound with no cracks, breaks, or repairs. All electronics work and sound great.
16" thinline body - maple,
Bolt-on maple neck w/adjustable trussrod,
Bound rosewood fretboard w/20 frets,
2x original DeArmond "Golden Tone" pickups,
2x Volumen, 2x Tone, 1x3-way switch,
Adjustable rosewood bridge,
Brown-tortoise nitrat pickguard,
The Harmony Meteor was the top of the line instrument from the Chcago based Harmony company. Harmony (owned by Sears) was one of the biggest makers of acoustic instruments from 1892 on. The Ultra thin Meteors were boasted to be, the most comfortable playing big guitar yet. Everyone knows what a Harmony sounds like: it's that real dry, aggressive country sound of the first Stones and Kinks album. It is the true British sound and it's the best blues guitar in the world if you play REAL blues! These guitars are very unique in there ability to cover a lot of tonal territory, mellow Jazz, Blues, to in-your-face Rockabilly. For playing West Coast style Blues and Swing there is nothing better! Harmony is one of America's biggest success stories in the world of musical instrument manufacture. From its beginnings at around the turn of the last century, up to its dissolution in 1974, the company produced literally millions of stringed instruments and amplifiers at its Chicago plant, including franchises for Kay, Stella and Holiday, Sears Roebuck's Silvertone, even an acoustic student guitar for Fender. Their motto, "The Best You Can Buy For The Money You Spend", was no idle sales waffle; purchasers were often pleasantly surprised to discover how much guitar they received for their outlay, as indeed I was when I finally tracked this one down. Harmony's Meteor was part of their "Professional" series of electric arch-tops from the late 1950's, based on the popular Rocket model but with a bound, block-inlaid fingerboard, larger head-stock and bigger, fancier f-holes. Other improvements included a heavy-duty trapeze-style tail-piece which increased volume and sustain, and the new Rowe Industries DeArmond single coil pickups. These fabulous DeArmond pick-ups magically complement the natural tone of the wood, giving the strings a rich, warm timbre with bite and attack to spare. If you're longing for those long-lost sounds of the early sixties, when twang was most definitely the thang, then this is the guitar!
https://www.youtube.com/watch?v=xk67gnN1nN4
https://www.youtube.com/watch?v=agYp1yCHuCc
https://www.youtube.com/watch?v=s4N7s296uIo
https://www.youtube.com/watch?v=DgpC_-bLsfY
https://www.youtube.com/watch?v=eTCZWMaGVqY
https://www.youtube.com/watch?v=XPf54Z0YqEI
https://www.youtube.com/watch?v=TmCXp649QhY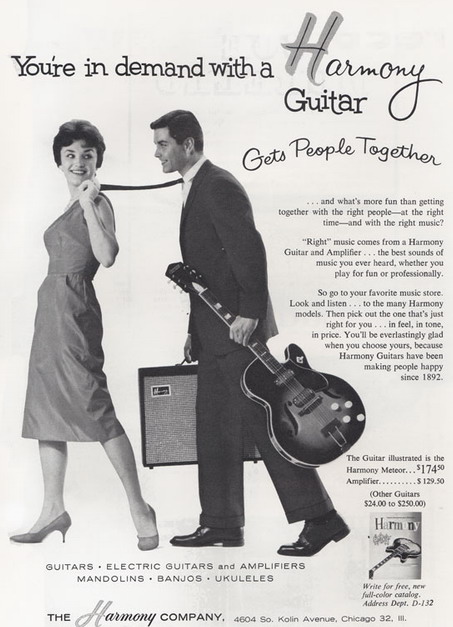 Harmony 1962 Meteor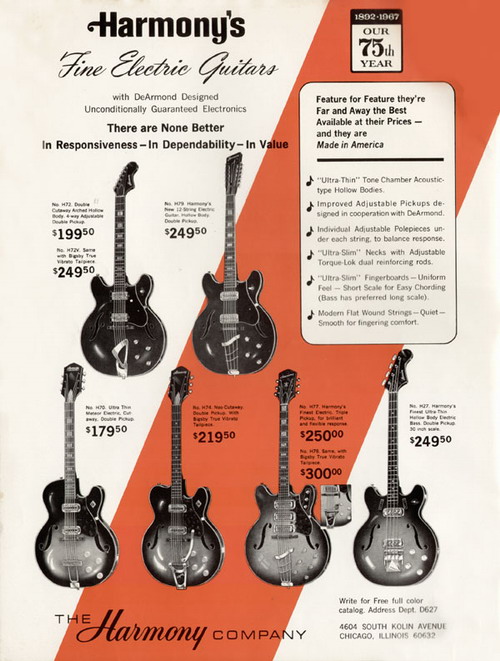 Harmonys Fine Electric Guitars (1967)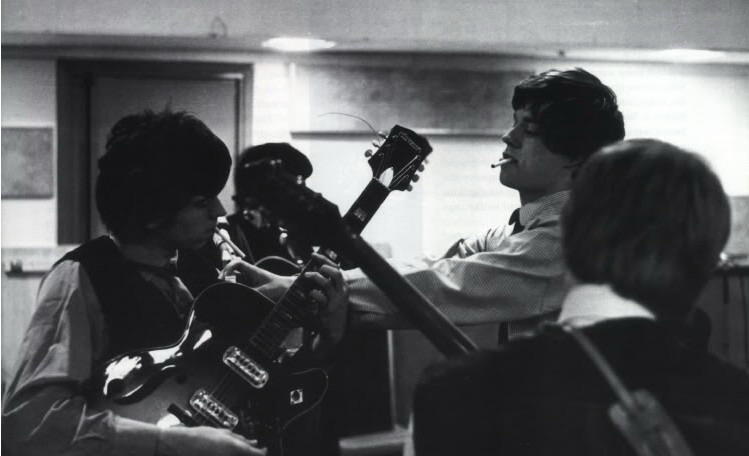 January 1963: "It was a new Harmony [Keith] played now and not the old blonde deep-bodied guitar somebody had made for him. ...I think it cost about 75 quid. It [looked] all right."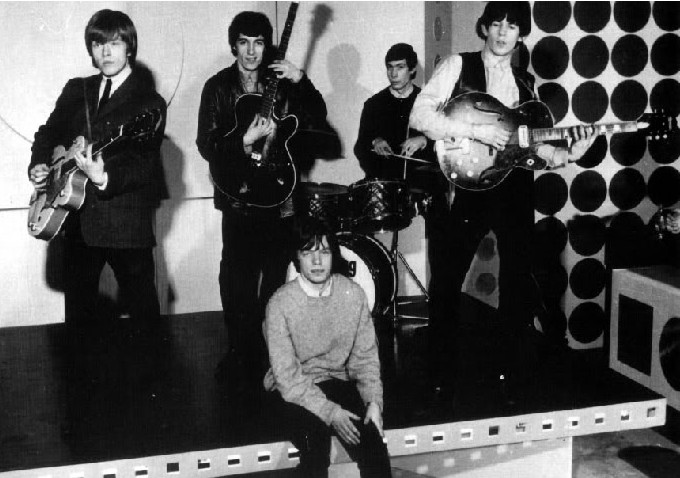 Top of the Pops, january 1st 1964
In 1963, to the popular music establishment, Mick looked like a smirking nightmare from music's dark unwashed underside, and Keith like the cocksure new gunslinger who might as well have ambled in with a Gatling gun as a Harmony guitar."- from Black & White Blues, by Gus Coral, David Hinckley & Debra Rodman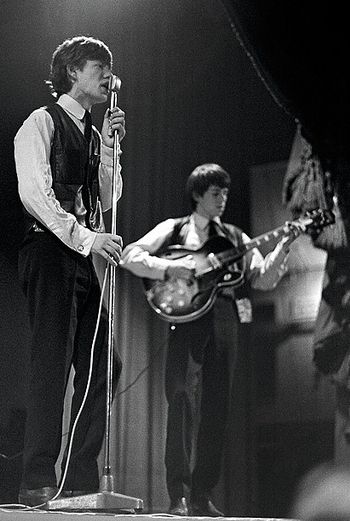 Keith Richard Meteor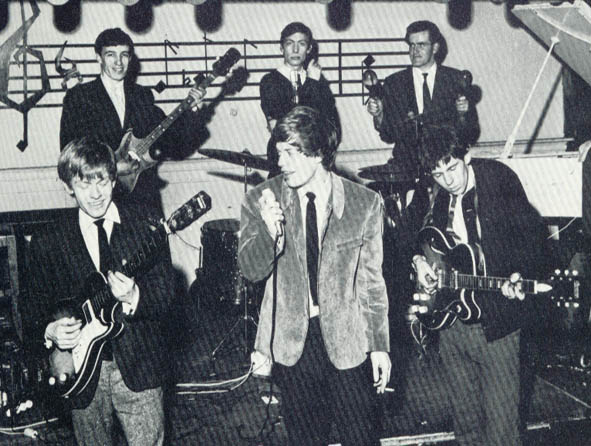 Brian is playing a Harmony Stratotone and Keith is playing a Harmony Meteor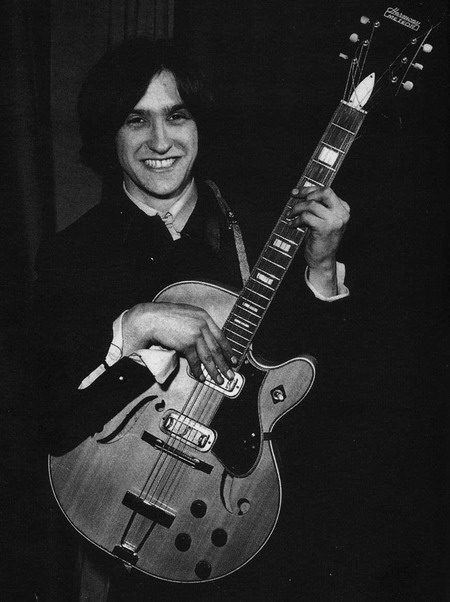 Davie Devies this Harmony Meteor is Dave Davies' first guitar, used on "You really got me"
https://www.youtube.com/watch?v=Jz9i-DLNxC0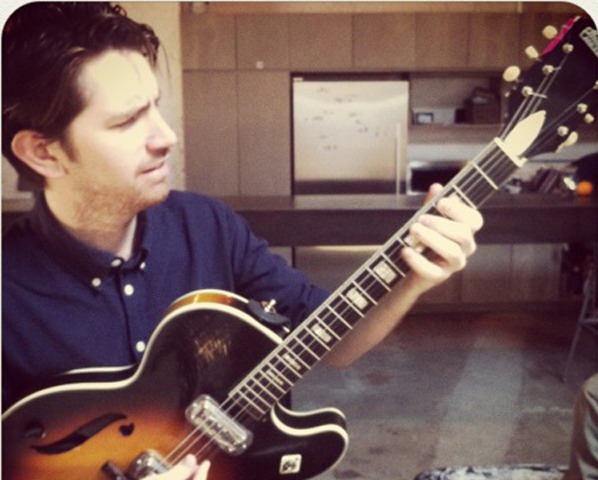 DELTA SPIRIT Whats your favorite piece of gear?
My favorite piece of gear is my '65 Harmony Meteor (guitar). The pickups sound incredible.They're DeArmond Gold tone pick ups.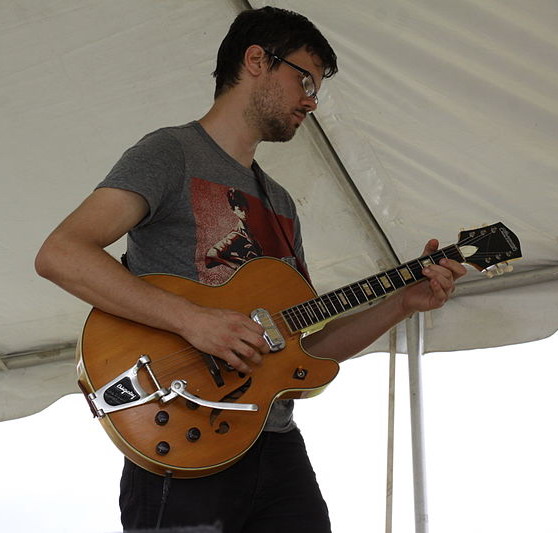 Kevin Conner playing Harmony H70 Meteor, TJ Kong and the Atomic Bomb at the Rugged Maniac 5K in Petersburg, Virginia, 2012