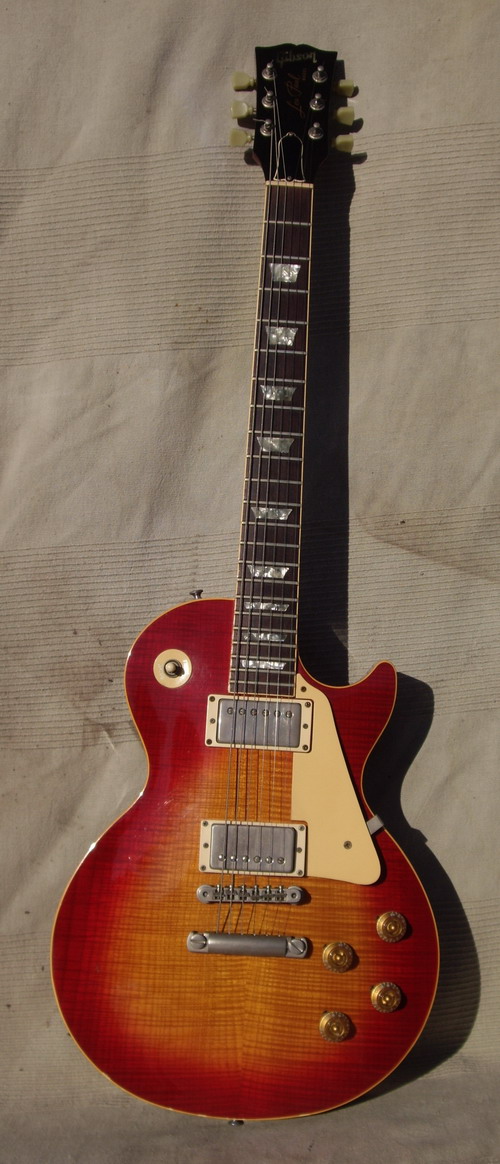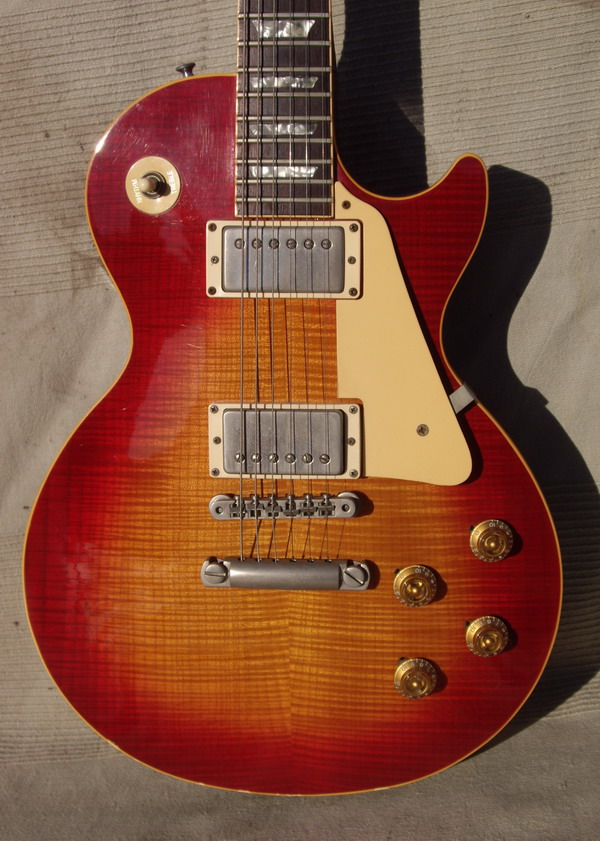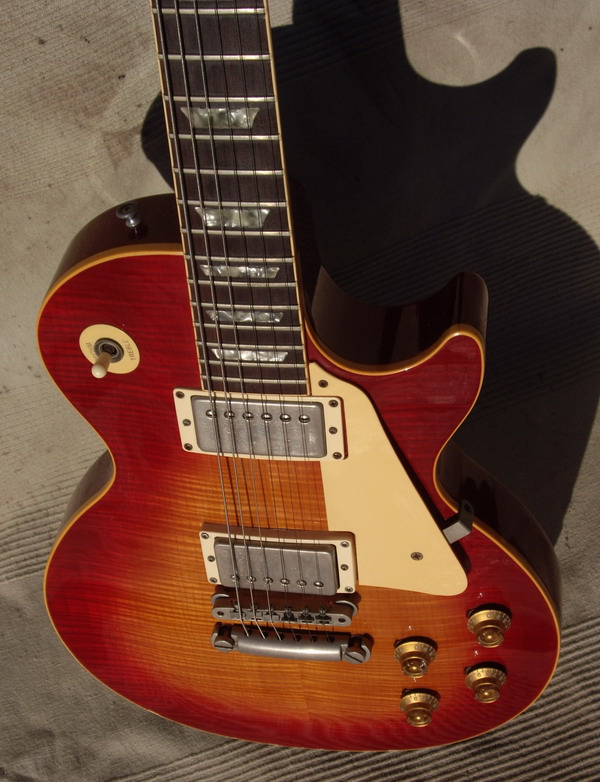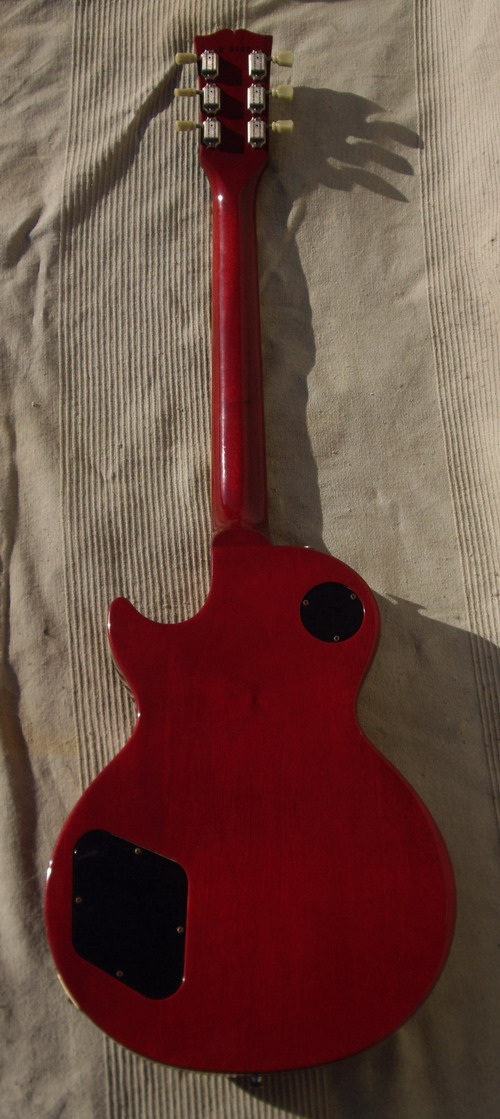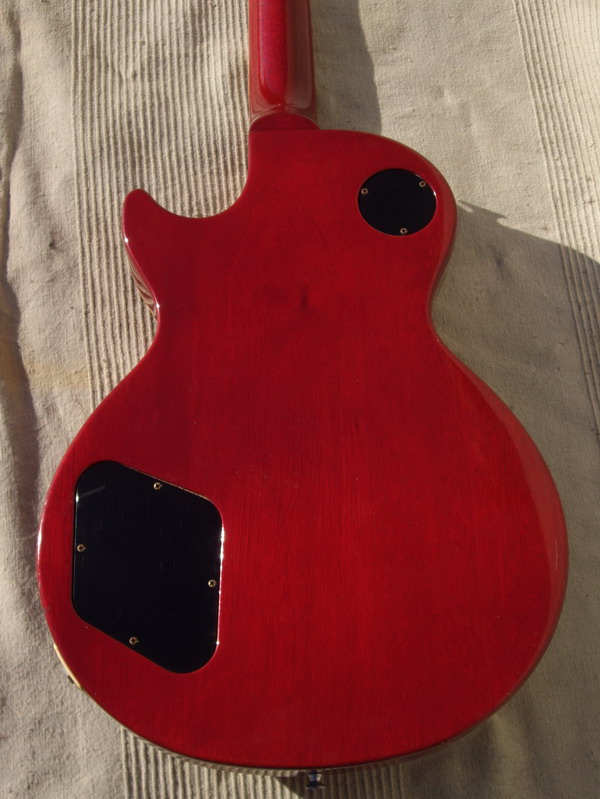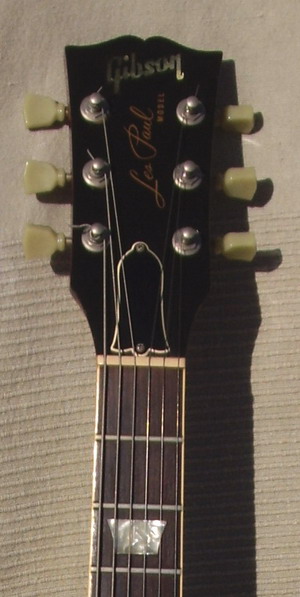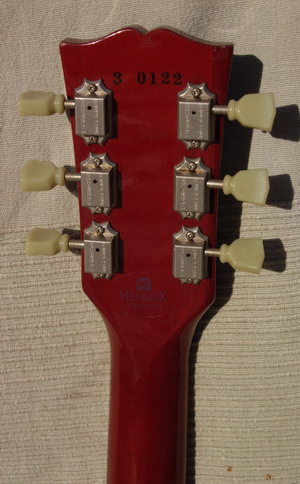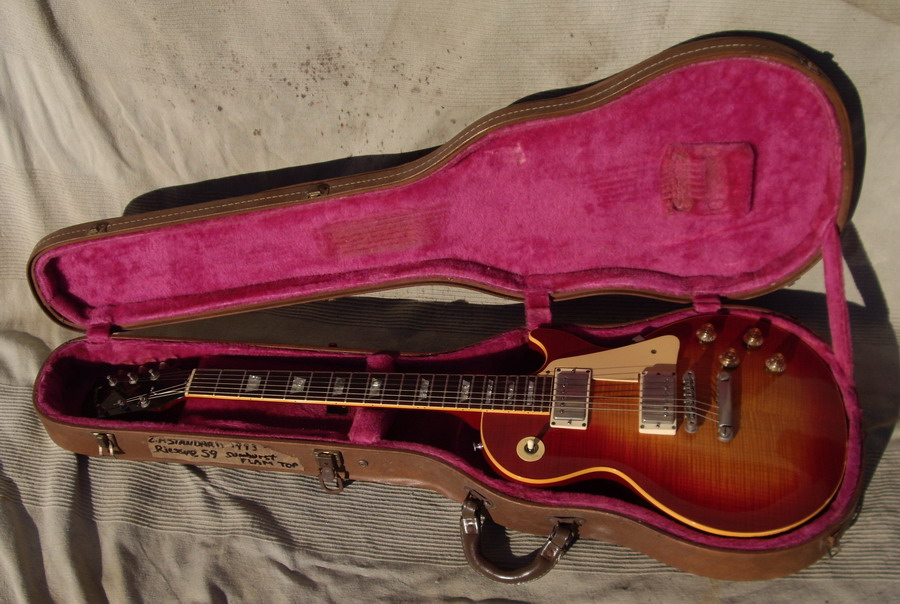 '93 LES PAUL STANDARD REISSUE '59 Pre-Historic, Sunburst,2 P.A.F Flame Top, weight 4,14 Kg ! Near Mint Cond.
code GI061
This Les Paul pre-reissue from 1993 is an attempt to recreate Gibson's most sought after sunburst Les Paul of the late fifties. Those famous 50's guitars were made of Honduran Mahogany, Brazilian Rosewood, and Michigan Maple, and finished in nitrocellulose lacquer. The modern incarnation uses today's manufacturing methods, and available materials. Forty years from now, it will also be a classic from a bygone era.
This guitar was produced during the first year of the custom shop. It is one of the first 198 59 Custom Shop Reissues, all of which were painted by Tom Morphy.
Keith Medley, who left Gibson in 1993 to make guitars on his own and who has since returned to Gibson's R&D department, hand-made protoypes #1 and #2 with Murphy. The Replica, as the guitar world called it, or the R9 as the Custom Shop people called it, debuted at the January 1993 NAMM show in Anaheim. And a new era began.
Or did it? It appears that for once in Gibson history, there is a clear-cut line of delineation. Reissue through 1992; R9 beginning in 1993. But that would be too easy. The introduction indeed marks the beginning of a new period for the Reissue, but it's a period of mystery and mystique.
When the R9 debuted in 1993, it was still coming off the regular production line. Tom Murphy painted the finish on the first 25 sunbursts and the first 15 goldtops (considerable research had gone into replicating the original goldtop finish also). Then he monitored production but did no more finish work through the end of 1993.
http://www.gibson.com/magazines/amplifier/1999/1/mainevent3.html
The introduction of the long neck tenon Historic in mid 1993 marked a change that led to higher desirability and value for Les Paul reissues after that date. Still, The 1983-93 Les Paul Reissues are wonderful guitars and a great market value, with breathtaking flame maple tops, excellent fit and finish, and wonderful playability and tone.
The research and quest for various "Pre-Reissue" and "Reissue" Les Pauls of the 80's and early 90's, especially during the experimental period of 1980-83, has been a fascinating journey, still leaving many unanswered questions about the thought process behind the evolving features of these guitars over time. During a period of changes in market demand, economic conditions, a plant closing, layoffs, new ownership, and market repositioning, Gibson was doing its best to recreate the magic of vintage 50's Les Pauls in response to the never-ending requests of collectors and players who wanted to recapture the magic of one of the most important instruments in rock and roll. And the Historic Reissue has continued to evolve in the decade of the 90's and the new millennium with features that more closely emulate their 1959 predecessors.
http://chitarre.accordo.it/articles/2008/05/16197/le-riedizioni-les-paul-flametop-2.html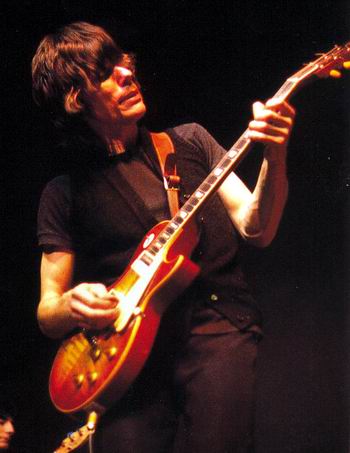 Jeff Back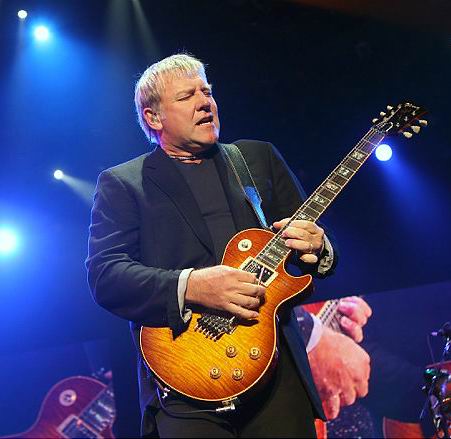 Alex Lifeson of Rush has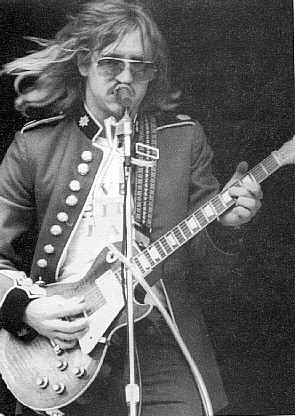 JoeWalsh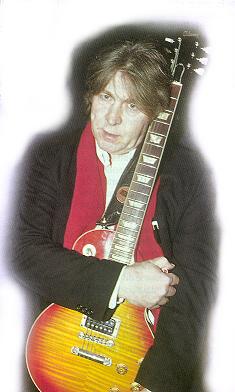 MickTaylor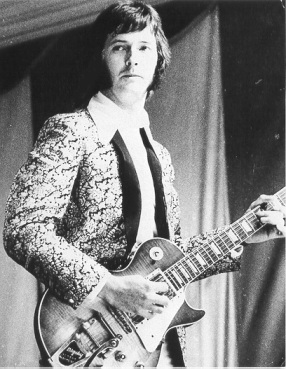 E.Clapton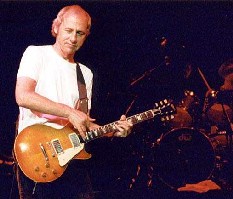 M.Knopfler